Scrip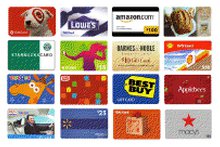 Earn money toward your fundraising goal on everyday purchases: gas, grocery, and entertainment. Scrip is available for purchase in the cafeteria Tuesdays, Thursdays and Fridays!
The school purchases discounted gift cards, each of which pays the school a varying percentage of profit.  The difference in the school's cost vs. the retail cost paid by families is what is earned by the school and credited to a family's fundraising account.
Scrip can be purchased either in person or online.
If you would like to purchase in person, Scrip is available at the school Tuesdays 8:15-8:45 am, Thursdays 8:15-8:45 am,  and Fridays 2:45-3:15 pm. Please see the school calendar for additional Scrip order dates. To purchase, download a Scrip Order Form.
Scrip can also be purchased directly online, visit www.ShopWithScrip.com to reload and support our school.  Remember, don't toss your gift cards! You can reload most cards at www.shopwithscrip.com.
Order Scrip Online
ShopWithScrip.com is the online ordering system that our organization will use to gather your scrip orders. This site offers the convenience of online ordering from your phone or computer.
Who Can Use ShopWithScrip?
Any family can use ShopWithScrip – however, to place orders, you have to create a free account at ShopWithScrip.com and identify yourself as a member of our organization with the enrollment code shown below.
How to Register
To register with ShopWithScrip, first visit the ShopWithScrip Website. To register a new account, go to the green Family Sign Up box on the left side, and click "Create Account".
Follow the simple registration instructions and accept the terms and conditions of using the site.
Select two challenge questions and provide answers. These answers will be required if you forget your password. They are case-sensitive.
Before you can place an order, you must enter our organization's enrollment code: DEB3ACL758L7. By associating this code with your newly created account, the ShopWithScrip system will correlate your shopping activity with our non-profit organization.
PrestoPay
Now families can pay online – using the new PrestoPay™ payment system at ShopWithScrip.com. When you pay online with PrestoPay, your scrip order payment is transferred automatically, and there's no need for you to make a special trip to drop off a check.

PrestoPay is not a credit card system, because credit cards are costly for your non-profit organization. Instead, PrestoPay uses the same secure electronic payment transfer used by direct deposit systems. You simply visit the secure PrestoPay area at ShopWithScrip.com and enter your checking account information.
After verifying the checking information, we'll send a secure approval code to share with your scrip coordinator. Then you can choose to pay with PrestoPay at the time you order, and have your payment securely transferred from your checking account to your organization. A 39 cent convenience fee will apply; less than the cost of a postage stamp.
Visit the "my account" page at ShopWithScrip.com, and click on the PrestoPay link on the left navigation bar. You'll find additional information and instructions for activating this convenient payment tool.
PrestoPay and ShopWithScrip.com, the easiest and most convenient ways to order scrip!